We hope you'll join us for our fundraising & community service events throughout the year!
4th Annual Home Plate Gala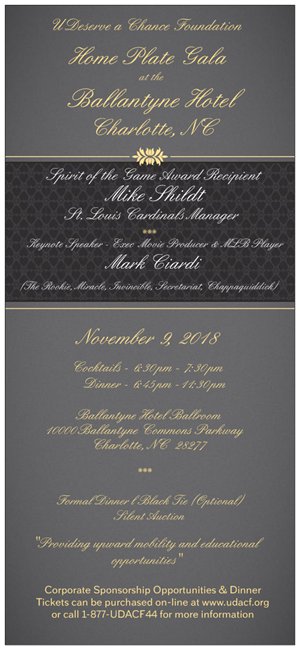 The U Deserve a Chance Foundation would like to invite you to the 4th annual Home Plate Gala! The following event raises monies to provide educational opportunities and upward mobility through youth athletics. Please join us for cocktails, silent auction, a plated dinner and a lot of laughs on November 9th at the Ballantyne Hotel and Spa. The U Deserve a Chance Foundation will be honoring one of its own this year. Mike Shildt, the new manager of the St. Louis Cardinals, was selected as the annual Spirit of the Game award recipient. Looking forward to a fantastic evening with great friends!
WHERE: 10000 Ballantyne Commons Parkway Charlotte, NORTH CAROLINA 28277
WHEN: Friday, November 9, 2018, 06:30 PM to Friday, November 9, 2018, 11:30 PM (EST)
Cocktails from 6:30 - 7:30
Dinner & Presentation from 7:30 - 11:30